The Kishiens—our tea farmers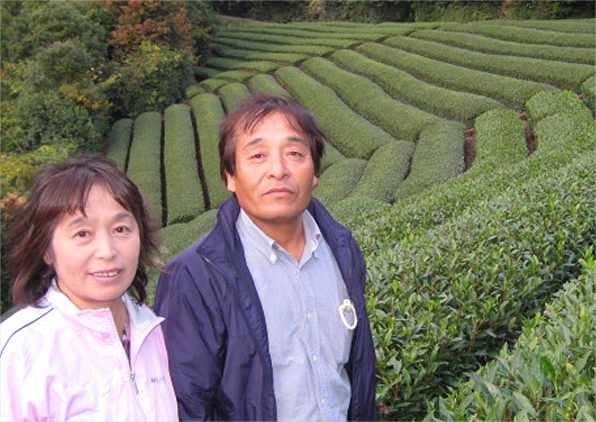 Thank you for your interest in my tea. I am Yuji Kishi, farmer, operator and the owner of Kishien (Kishi Farm). When I took over my family's tea farm in the early nineties, I decided to grow our tea strictly organically. Cultivating high quality organic tea requires extra time and effort, but with the help of my family members, we are able to control our products from the growing stage through the final processing and packaging.
My teas are made of only ichibancha ("first tea"), the youngest leaves and buds that are picked in early spring. By harvesting only once a year from each tea bush, the plants are able to fully recover, which allows them to improve their excellent taste and flavor year after year.
Tea is similar to the wine when it comes to soil quality, optimal rainfall, sunlight, humidity and terrain. As with varieties of wine, teas possess distinct differences in color, body and aroma. Thus, choice of fertilizer is a crucial factor. At my farm, we use an organic plant-based fertilizer. Although few farmers grow their tea organically, our neighboring tea farmers are also organic growers, which ensures the quality of the soil being organic. By analyzing the character of the tea harvested annually, we bring out the best characteristics in each one. My family members and I are working hard for the sustainably-grown, highest-quality tea.
We are honored to be able to offer Kishien's tea to you through Lotus Island Tea Farms. Please enjoy our tea!